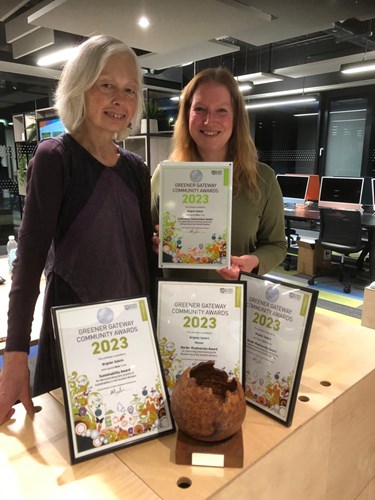 Brighter Selkirk Scores 3 Awards
Added at 11:41 on 29 September 2023
Brighter Selkirk are celebrating winning three awards at the 2023 Greener Gateway Awards. Representatives from towns and villages across the Borders came together on Tuesday September 26 for the 2023 Greener Gateway Community Awards. Rebranded in 2022 from the Floral Gateway Awards, they reflect an increased focus on the efforts of individuals and groups to tackle the effects of climate change.
At the prize-giving ceremony at the Inspire Learning building in Tweedbank, Brighter Selkirk were honoured for their outstanding efforts in helping make their communities more vibrant, sustainable and environmentally friendly.
Brighter Selkirk were winners of the Borders Biodiversity Award, designed to recognise and celebrate the civic pride, volunteering efforts and skills that help keep the towns and villages of the region looking so cared for. They went on to score Silver in two other categories: the Cultivating Communities Award, as well as the Sustainability Award, and were the only organisation to be honoured in three separate categories.
Congratulations to all involved! Pictured are Sue Bremner and Maggie Norman of Brighter Selkirk, with the many awards.